Five veteran blues artists at the peak of their game. Friends for years. All-star players on the national or international scene. Solo performers or members of other well known groups.
Brought together by fate while playing at Jamey's House of Music, a premiere club in Lansdowne PA, when something clicked and their mutual respect for one another and deep abiding love for the blues bonded them into something greater than each of them alone - and thus was born, the Girke-Davis Project.
This supergroup committed to get together at Jamey's to celebrate the vast repertoire of blues music that has been compiled over time from the far reaches of this vast nation by great men and women of every color and stripe, and share it with those who love this all American art form.
And so, at a time when many other musicians are hanging up their instruments, these gentlemen are answering the call to carry on and see what comes with age, experience and whatever skill and wisdom they can muster, and hopefully provide a beacon to the many fine young players that are coming up in the blues world.
We invite you to come and hear for yourself. You won't be sorry. Guaranteed.
The Girke-Davis Project is the newest house band for Pennsylvania's rockingest little nightclub, Jamey's House of Music in Lansdowne PA, where the men perform an opening set every 2nd Sunday of the month at the Sunday Blues Brunch & Jam, and provide support for all the great guest jammers who attend the lively jam session. The well-known and loved Philly Blues Kings featuring Bluesman Dave Reilter on guitar, keys and vocals and drummer/vocalsist, Bill Marconi is the other house band, holding down the 1st, 3rd and 4th Sundays. Reilly plays bass with both outifits and has played alongside Reiter for over 15 years.

Roger Girke is a road tested guitarist, singer and writer with a career including over 5,000 live shows, concerts and festivals and numerous recording sessions and releases.
Roger career began performing in rock bands in the eastern PA/NJ area, eventually joining the legendary Philadelphia area roots rock band Pickins (Capitol/Ariola), followed by many years of touring and recording with Sharks (Elektra), Robert Hazard (RCA), and many other notable artists.
Since 2000 roger has released 5 CD's and has regularly performed at blues festivals, clubs and concerts throughout the Mid-Atlantic. In that time he has also recorded and performed with Gary Allegretto (Los Angeles, CA), Sam Cockrell (Chicago, IL), Jimmy Pritchard (DE), Peter Veteska (NJ) and most recently Mike Guldin (PA).
The Roger Girke Band was a top 10 finalist in the 2009 International Blues Challenge as well as receiving two time top tier Independent CD finalist awards in the 2005 and 2009 IBC.
Roger' s CD releases include:
Roger Girke and The Funkytwisters – "We Got The Funky Blues" Teletone 2001
The Roger Girke Band – "My Baby Loves That Stuff" Teletone 2004 "Top 5 Self-Produced CD" 2005 International Blues Challenge*
The Roger Girke Band – "Shake It" Teletone 2008 "Top 6 Self-Produced CD" award, 2009 International Blues Challenge*
Roger Girke – "Piece Of Work" RG3Records 2013
Roger Girke and The Wandering Souls - "Silver Lining" Teletone 2017
*NEW* release is fully recorded and in post production. Look for a late 2022 release!
John Colgan-Davis, harmonica and vocals, started playing the harmonica in local blues and folk clubs back in the late 1960s while he was still a high school student. He played and recorded with Philadelphia singer-guitarist Jesse Graves and played with Bonnie Raitt when she lived in Philadelphia in the early 1970's. Through Bonnie, John got to meet and play with Mississippi Fred McDowell, Arthur Crudup, Buddy Guy, Skip James, Mississippi John Hurt, and others. He has also jammed with James Cotton, John Hammond, Charlie Musselwhite, John Lee Hooker, Bill Dicey, and Louisiana Red. He has toured the Midwest and recorded two CDs—"Cold and Lonesome on a Train" and "Heroes and Hard Times"—with Tennessee bluesman Sparky Rucker, and played for three years with The John Cadillac Band.
A founding member of The Dukes of Destiny, John also taught Social Studies at Friends Select School in Philadelphia for 29 years and has written articles and supplements for The Philadelphia Inquirer on Blacks in the American West, Black Literature, the History of Black Philadelphia, and other topics. He is also a guest columnist for the Chestnut Hill Local.
John lives in the Mt. Airy section of Philadelphia.
Glenn Bickel is a veteran of the piano and Hammond organ, as a respected keyboardist with numerous blues artists over many years on stage and in the recording studio.
Glenn is a founding member of Leroy Hawkes and the Hipnotics, opening act to John Lee Hooker, Robert Cray, The Commitments, Fabulous Thunderbirds, Gladys Knight and the Pips, and Chris Cain. Glenn was a part-time member of Chris Cain's band and was house keyboardist for Randy Lippincott at Warmdaddy's for 7 years.
He is father to two talented musicians, The Bickel Brothers who follow him in the music tradition, and is a software developer who enjoys fine woodworking in his spare time.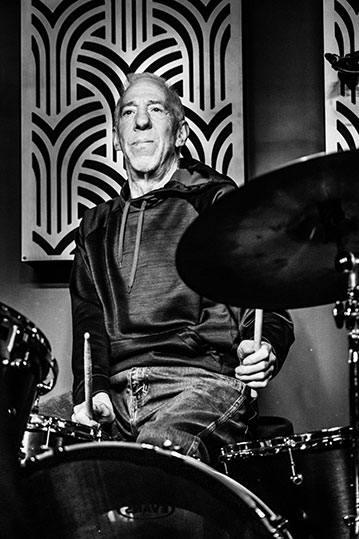 Fred Berman began playing drums at the age of five, inspired by Ringo Starr, and his neighbor's older sibling's Motown collection. This started a lifelong journey down a musical path that took Fred from the streets of West Philly to the prestigious Philadelphia college of performing arts. There, he studied classical percussion with Anthony Orlando of the Philadelphia Orchestra, and took lessons with R&B and studio legend Bernard Purdie.
Freddie is a much in demand Drummer and percussionist who has performed and recorded with Tommy Conwell, G. Love, Mutlu, Schoolly D and many others. He also performed worldwide and recorded with Singer-Songwriter Amos Lee from 2002 until 2018.
Bassist Jamey Reilly was trained on accordian, piano and guitar at a young age, and has held down the low end since 1965 when he joined the pop group, "The Abstract Design." He has been an avowed blues lover since 1970 when he did a stint with legendary bluesman John Lee Hooker, and tried to coax Son House out of retirement. It was a reunion performance at Boston's Fenway Theatre that Jamey pulled together, with Paul Butterfield and Mike Bloomfield that cemented his life long addiction to the blues.
Jamey has done gigging around the east coast and has backed some well known national blues names. His playing can be found on a number of CDs by various artists. He spent several decades in numerous roles in the professional audio engineering and live music industry. He pursued a degree in Physical Therapy after two separate accidents with a car and a power saw left his right hand partially paralyzed.
After spending many years on the road and living in various parts of the country, he finally set down roots in Philadelphia and joined the vibrant Philly music scene. Jamey opened the popular Jamey's House of Music, Livehouse, restaurant and bar in Lansdowne PA.
Jamey enjoys an old-school pocket-playing style (no bass solos please), and provides a solid bottom to the music on his extra long scale fretless 5 string bass. He fell in love with the low end while growing up listening to the great bass players of the '50's on his parents hi-fi, and spent a life-time seeking the holy grail of flawless bass reproduction during his many years in pro-audio. His current self-designed and built (8 foot tall!) bass rig is the apotheosis of his efforts and can be heard/felt and marveled at at his club.